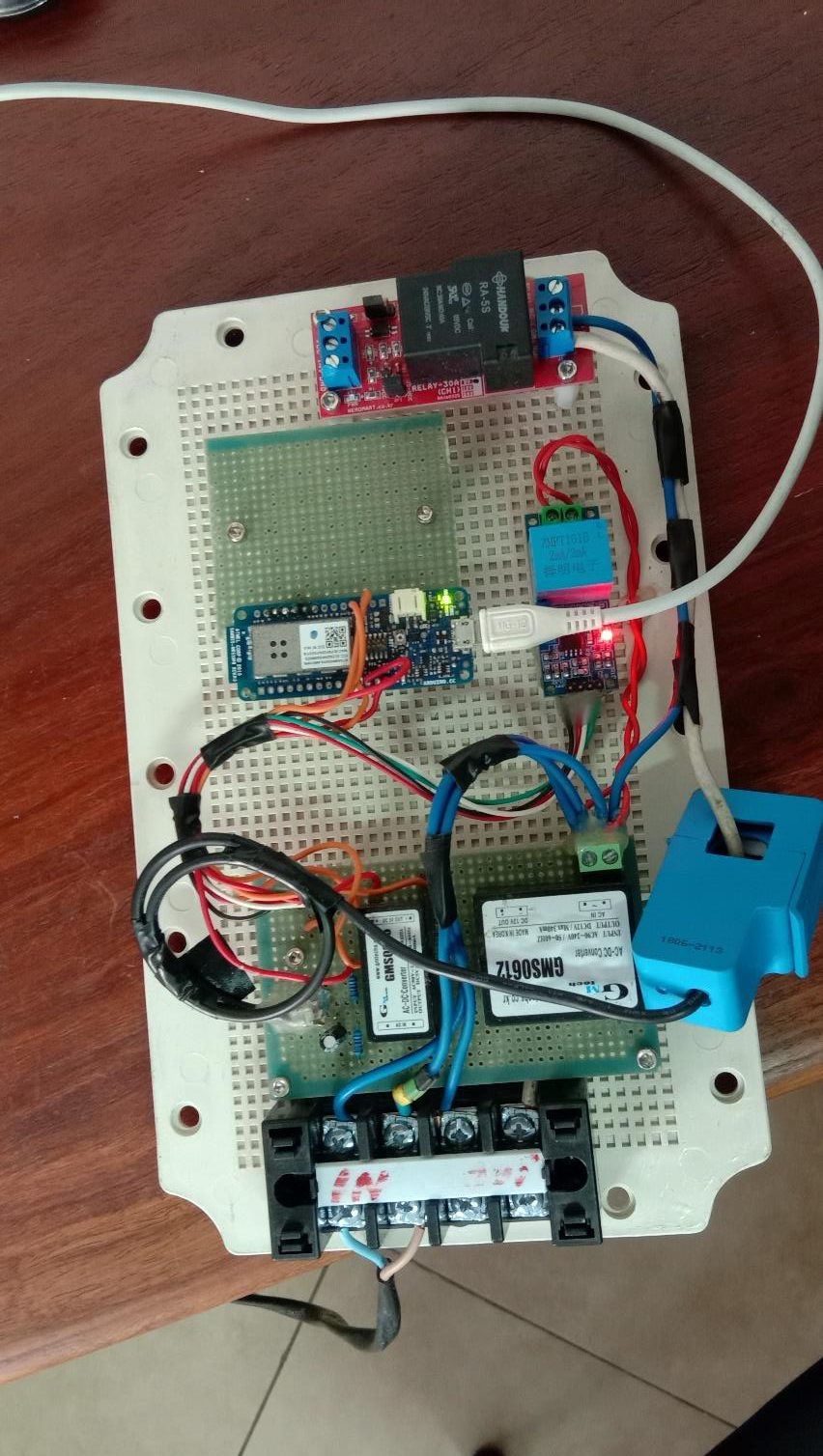 Examples of Current Projects
Electricity Monitoring System
The Proposed wireless energy device monitoring system is a single phase electricity and used for monitoring electricity usage by the industrial automation for example lighting system, HVAC and electronic devices usage. The system is using real-time measurement facility via wireless network applications via Arduino MKR1000 microcontroller that uses CT sensor to measure current and PT Sensor to measure potential difference. It is required in order to minimize operating cost of energy consumption without reducing productivity. The target of energy audit is focused on the profiling behavior of the manufacturing industrial sector and commercial buildings in electricity consumption. The best way to achieve this solution is to design and develop an electrical energy monitoring system. This system allows an advanced measurement and data acquisition of electrical energy in real-time condition. Monitoring and data acquisition are important for recognizing local resources, monitoring energy conversion efficiency, and sending failure reports using intercommunication systems.
Digital Farming
With many Apps out there that are focused in a single area, our solution offers an integrated platform for all stakeholders involved in agricultural activities. The purpose being to help solve and simplify a number of issues faced not only by farmers but other collaborators as well. Digital farming is a Mobile App with integration of IoT and other technologies that we are developing with the aim of solving real issues faced by those in the field. With this in mind, Digital farming aims to works directly and closely with the said stakeholders and experts to come up with an app that will be useful and impactful to this sector. At the moment Digital Farming is divided into three major parts, The Mobile App, IoT part and Hydrogeological mapping. Each part is developed based on its specific need to a certain group(s) that in turn has a positive impact on the whole sector.
We hope with more involvement and interaction with more farmers and other players we can develop a solution that is tailored for them and will improve the whole process of production, harvest and storage.
List of Projects
| Project | Students |
| --- | --- |
| Smart Ugali Coocker | Amrani Hassan / Ngollo Daudi / Samwel Katwale |
| Early Fire Detection System for Market Places | Anna Geofrey / Hilary Rambo / Philemon Rotich |
| Mobile App for Document Digitalization using AI and OCR Technology | Beatus Mbunda / Mbonimpaye John / Victor Willa |
| Bimodal Fingerprint and RFID based attendence System to Monitor Attendance at School or Work | Fabian Ngaboyimbere / Deo Irankunda / Olivier Hungurimana |
| Automatic Vehicle Number Plate Detection and Recognition System | Gloriose Nzasangamariya / Ivan Koojo / Favor Wisdom |
| Mobile App for Monitoring Air Pollution using Wireless Sensors | Henry Semakula / Martine Lyimo / Jimmy Obira |
| Mobile App that Enables People to Trade Stock in an Integrated East African Financial Market | Hillary Kaluuma |
| Mobile Farming Application | Shakila Mbaraka / Yahya Maalim |
| Drowsiness Detection System for PSV Drivers | Ange Josiane / Josephine Mwikali |
| Mobile App linked with IoT to Improve Agricultural Processes | Emil Patrick |
| Mobile App for the Integration of Capital Markets across East Africa | Happyness Alexander |
| Development of a Software System for Financial Sector Development of Capital Markets within East Africa | Alban Manishimwe |
| Smart Card Management System for Water Sale Based on RFID | Rahab Uwamahoro, Aina Kipendaroho, Avith Habonimana, Frank Nyange |
| Web-mobile Students Information Management System a case of NM-AIST | Thon Malek Garang, Angela Mseke, Happyness Chikusi, Stanley Manyonyi |
| NM-AIST E-Office Management System | Yvonne Uwamahoro, Magdalena Bahati, Armel Bizoza, Alphonsina Shiyo |
| Mini Smart Library Direction System | Dominic Makjak Deng, Annette Mandari, Angelo Bidal |
| Smart Electronics Billboards | Yvonne Iradukunda, Innocent Ciza, Emmanuel Ronoh, Salama Ndayisaba |
| IoT Based Security System for Early Fire Monitoring in Tanzania Industry | Abel Nshimiye, Kisakyake Ng'ondya, Jesus de la Paix Irakomey/ Elibariki Sumari |
| Smart Masai Cattle Grazing System | Lule Joseph/ Zuhura Msisi |
| Electrical Consumption in the Smart Houses | Florian Rwegoshora, Hamis Msimbe, Daniel Wilson, Juma Salim |
| ICT for Air Pollution Control Management in Oil & Gas Industry | Mathiang Dut, Chantal Iribagiza, Kevin Iriho |